This is source I found from another site, main source you can find in last paragraph
This article is the first part in a series which will cover the South African platinum or platinum group metals industry ((NYSEARCA:PGM)). The industry is a critical export earner for the country, with South Africa presently accounting for 70% and 40% of the global supply of mined platinum (NYSEARCA:PPLT) and palladium, respectively. This article will provide some background on the country's various producers, recent and future production trends, as well as some perspective on the types of ore being mined in the industry.
Industry Background
In Southern Africa, if we include Zimbabwe, platinum is mined from two principal geological formations - the Bushveld Igneous Complex (BIC) in South Africa and the Great Dyke formation in Zimbabwe.
For a more detailed background on the various geological aspects of PGM mining in South Africa, Johnson Matthey (OTCPK:JMPLD) provides a useful summary on its website.
However, the most important geological point that investors need to be aware of, is the three main types of reef that comprise the bulk of platinum production in South Africa. These are the Merensky Reef, the UG2 reef and the Platreef. The Great Dyke formation (Zimbabwe) and various layers mined in that formation could be considered a fourth type of ore, but for our purposes, we can consider the nature of it to be broadly similar to that of the Platreef.
More important than being cognizant of the different types of reef being mined, an investor should be aware of the evolving production dynamic in terms of the different types of ore being mined - the most important of which being the increased amount of UG2 being mined compared to Merensky.
Again, referencing Johnson Matthey we can see that this has been a very significant trend that has been in place for nearly two decades. We will detail why this dynamic has important implications for the industry and perhaps more specifically, individual industry players.
The Merensky Reef was the principal source of PGMs from the time that it was first worked in 1925 until the end of the 20th century. However, extraction of other reefs has grown in importance, and by 2011 the Merensky Reef accounted for only 22 per cent of all the platinum ore processed in South Africa. Exploitation of the UG2 began in the 1970s and has steadily increased; in 2011, it was the source of 63 per cent of ore processed. The Platreef, briefly mined in the 1920s, was not exploited on a large scale until 1993 but by 2011 accounted for 15 per cent of ore treated by South African platinum mines.
The map below shows the geographic spread of the PGM deposits in South Africa and the various major mining operations: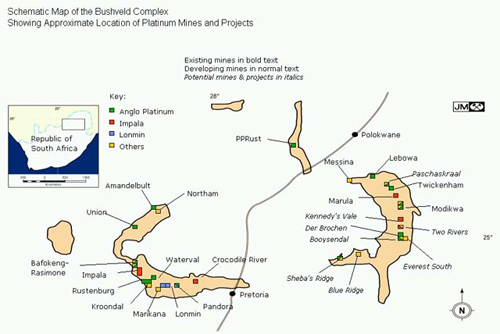 Source: >Johnson Matthey
The Western and Eastern "Limbs" are where the Merensky and UG2 reefs are predominately mined, and more specifically in terms of the Merensky reef, the Western Limb. The Northern "limb" is where the Platreef is mined, and at present there is only one major mine operated by Anglo American Platinum- the Mogalakwena mine (PPRust on the above map) in the Northern Limb.
Major producers and recent production trends
There are four major PGM mining companies in South Africa and Zimbabwe that account for more than 80% of overall global production and 100% of all refined platinum production in Southern Africa. Many smaller PGM companies cannot afford the large capital investment required to build and operate their own smelting and refining infrastructure and effectively outsource this function to these major industry players under tolling agreements. This can represent a major competitive disadvantage for these smaller companies in the industry.
The table below shows the breakdown in refined production between the four major industry players, and includes third-party production treated on behalf of smaller companies in the industry. It also includes production from the various Zimbabwean operations.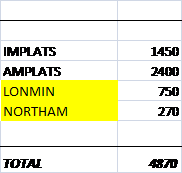 Source: Blue Quadrant Capital, Company Reports
In terms of global supply, we can clearly see the dominance Southern Africa holds in terms of total production. The table below is referenced from the most recent (November 2016) Johnson Matthey Industry Report.

>
Source : Johnson Matthey, November 2016 PGM Market Report
This table also highlights the fact that overall global platinum production has remained largely flat over the past five years, while South Africa's recent production remains well below the country's record production peak of 5.5mn ounces, which was reached in 2005. This disappointing trend reflects not only the decline in international prices for PGMs, but also domestic supply constraints due to fractious labour relations and accelerating input costs - particularly with regard to electricity. Much of the ore being mined on the Western limb is now being mined at greater depths, which does entail increasing usage of electricity and these other input costs.
As a result of stagnant mine production growth in the context of continuing demand growth, the platinum market has been in deficit and is expected to remain in deficit again in 2016.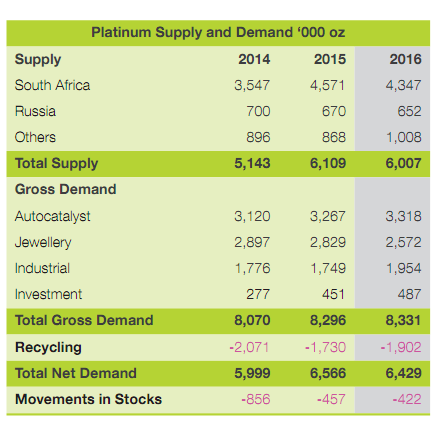 Source : Johnson Matthey, November 2016 PGM Market Report
There are many components relevant to the platinum market, while platinum itself has a high proportion of demand that stems from demand for jewelry and investment. As can be seen, these components are volatile and can show large fluctuations between years, and as such we will not focus on demand trends in this article. Suffice to say, over the near term at least, industrial demand for platinum is expected to show continued growth.
In a future article we may explore recent developments regarding the future of diesel engines and the implications of the 2015 emissions scandal, which is important in terms of the longer-term outlook for platinum.
Future production trends in South Africa and Zimbabwe
Based on company level analysis and interaction with the investor relations departments of the various companies, we have compiled the following projection of future mined supply in South Africa and Zimbabwe. The projections are based on refined production, and therefore all smaller company production falls under either Impala Platinum (OTCQX:IMPUY), Anglo American Platinum (OTCPK:AGPPY) or "Amplats", Lonmin (OTCPK:LNMID) or Northam (OTCPK:NMPNY). In the breakdown we only show the difference in projected production to the 2016 baseline.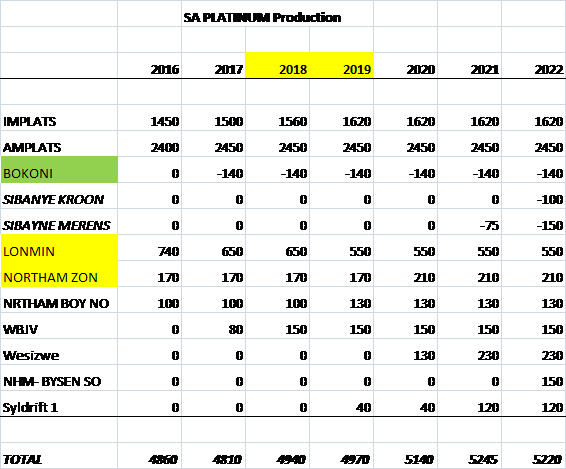 Source: Blue Quadrant Capital, Company reports
*Please be aware that there may be small differences between these numbers versus industry projections for 2016 as we are working off the company fiscal years as opposed to calendar year production.
There are a number of smaller mining projects expected to ramp up over the next few years, adding to the overall production profile in South Africa. These projects are largely a legacy of the high prices that prevailed more than five years ago, and with large capital expenditures and the inevitable time lag, many of them will only start to produce in the next few years.
This dynamic has added to the negative sentiment in the market towards platinum, and has likely been a factor in depressing platinum prices. However, we feel the market is being overly optimistic regarding future supply growth in the current depressed price environment, and is choosing to focus on potential new supply growth rather than the potential for a reduction in output at some existing operations.
Many of the smaller mines which have been planned or which have come on-stream in recent years have been built by smaller companies tied to Black Economic Empowerment programs that require formerly disadvantaged citizens in South Africa to have a minimum shareholding in all mining operations. In some cases, these companies have struggled to obtain and fund these smaller operations in the current industry downturn, particularly when a company is reliant on a single mine.
This has been the case with smaller listed platinum companies such as Royal Bafokeng Platinum (RBplat) and perhaps more importantly with regard to AtlatSA, which operates a fairly large mine - the Bokoni mine in the Eastern part of South Africa. Due to the depressed industry conditions, two shafts (which importantly both mine Merensky reef) have recently been placed on 'care and maintenance,' while the company has also ceased open cast operations. This is likely to result in the loss of some 50,000 ounces of platinum in 2016.
Furthermore, the operational future of the Bokoni mine remains uncertain, which is due to the company needing to obtain new funding in order to remain a going concern. Should the entire mine cease operations, it could result in a further loss of 140,000 ounces of platinum per annum (including the termination of open cast operations). Although this is not a certain outcome at this stage, we model for this in the above projection in order to show an alternative production profile based on a continuation of the current depressed pricing environment, as opposed to the more optimistic industry production projections, which are generally based on the assumption that the pricing environment will improve going forward. (In the industry we could describe this as positive vs. negative myopia!).
Some of the current expansion projects are also being delayed or scaled back. One example is the Styldrift 1 project being developed by RBplat. The original intention was to nearly double current production, with the new mine extension expected to reach steady-state by 2019. A delay due to funding concerns means that the extension project will now likely only reach steady-state production in 2021, and will only increase overall production by 120,000 ounces of platinum. The delay in the ramp-up of this project means it is only likely to add some 40,000 ounces of platinum to the market in 2019 and 2020.
The country's second largest producer, IMPUY, is also developing two new shafts (actually three, but the third is delayed for now), which will add 200,000 ounces of platinum production to the market by 2019. However, this increase in production from IMPUY will very likely be largely offset by lost production at the country's third largest producer, Lonmin. We will focus on this company in a future article, but the challenges it has faced, including near bankruptcy in 2015 (only staved off by a government supported rights issue), are well known.
Despite the rights issue, the outlook for Lonmin in the current pricing environment remains challenged, and according to its current production plan, total platinum production will decline to roughly 550,000 ounces in 2019 from sales of 740,000 ounces in 2016. The current plan envisages a renewed ramp-up in production in 2020 as a new shaft is brought onstream (Hossy), but this is critically based on the assumption of an improved pricing environment. Again, we reiterate that we are modeling based on the assumption that the current depressed pricing environment is sustained in order to highlight the downside risk to current industry production projections.
As the aforementioned table shows, there are three other known or important expansion (or new mine) projects set to add to overall production, including the Western Bushveld Joint Venture (WBJV) Maseve Mine (Platinum Group Metals (NYSEMKT:PLG))- a new mine being built by the listed Wesizwe group (OTC:WSZWF) (JSE:WEZ), and a major expansion project being undertaken by the country's fourth largest producer Northam (Booysendal South).
However, apart from the WBJV mine, all of these projects will only meaningfully add to overall production from 2020 onwards, and this is based on current management guidance. Experience has shown that these timelines can get revised and postponed many times. It also assumes that these companies will continue to be in a position to fund the ramp-up of these projects, despite the current depressed pricing and industry environment.
There is another large project under a feasibility study, the Waterberg project in the country's northern limb. As mentioned, this is an area where the Platreef is being mined and at present there is one large-scale operational mine, operated by Anglo American Platinum (Amplats). The Waterberg project is owned by Platinum Group Metals. However, there are two distinct challenges faced by PLG in bringing this mine onstream within the next six years and why we discount it from our model.
Firstly, PLG is a small company and obtaining the funding to complete this project in the current environment would be very challenging, if not impossible. Secondly, the Platreef contains a much higher percentage of base metal and as such, any mine exploiting this ore will produce large amounts of base metal by-products (copper, nickel). Although this can greatly enhance the mine's total revenue stream, it does require more large-scale base metal smelting and refining capacity, which does not exist in South Africa at present.
Again, for a company the size of PLG to invest and construct its own complex is simply not feasible and would potentially require a JV with a larger established player such as Amplats (which may want to expand its own operations in the Platreef). However, such a scenario is only likely in the event that prices move higher in order to generate the type of returns to justify the very large capital expenditure that would be required.
Therefore, assuming a steady-state output at the country's largest producer, Amplats, together with some incremental growth at Northam's operations (40,000 ounces by 2020), we obtain our modeled production projection, which shows some growth in total output, including Zimbabwe (where output is expected to remain roughly steady as well for the next five years). Our "depressed pricing" model suggests scope for just 100,000 to 150,000 ounces in incremental output by the end of 2019 or 240,000 to 390,000 ounces assuming the Bokoni mine continues as a going concern.
It is only from 2020 onwards, when the Wesizwe and Styldrift 1 projects are likely to ramp up, that production may get a further uplift and again, this projection rests on the assumption that both companies will be able to meet the current guided timelines and importantly obtain the funding required. In a depressed pricing environment this may yet prove somewhat challenging.
The evolving shortage of Merensky Reef and what it means
As briefly discussed earlier, a key theme has been the depletion of Merensky reef (or shallower deposits of this reef) and the increasing amount of ore being mined from the UG2 reef. This is of particular relevance in the Western Limb, where most of the more economically viable deposits of Merensky have been situated. There is some Merensky reef being exploited on the Eastern limb, notably at the Bokoni mine, but the deposits are generally not as economic as those on the Western limb. As a result, the vast majority of ore being mined on the Eastern limb is also UG2.
The reason this is important is the lower percentage of base metal sulphides present in the UG2 reef compared to the Merensky reef, as well as the higher level of chromite. As the chart below shows, the percentage of chrome in the furnace feed at Impala Platinum's smelting and refining complex has increased steadily over the past decades as the percentage of UG2 ore being processed also increased.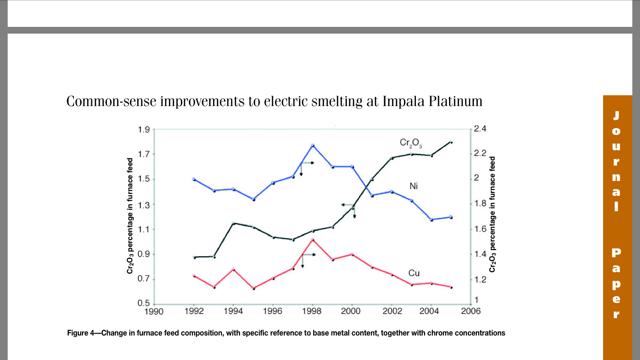 >
>Source : South African Institute of Mining & Metallurgy
The higher percentage of chrome in UG2 makes it more challenging to smelt and refine UG2 ore, which traditionally has also had a slightly lower percentage of platinum and higher percentage of palladium. At present platinum, palladium price differentials this is not particularly relevant, but in the past (pre-2008) this differential led to marked differences in the PGM "basket" price received for the two types of reef being mined.
However, what remains important is the nature of the two ores and what it means for South Africa's PGM industry. In general, the current smelting technology has a "limit" in terms of the percentage of UG2 ore that can be treated (dependent upon on the level of "tinkering" at the various smelters), which varies between 70% and 75% UG2 ore versus 25% to 30% Merensky (or Platreef).
Let's be clear, there is no "hard" industry limit on this ratio as the smelting and refining of precious metals is an extremely complex process that relies on many different factors. It also depends on the percentage of chromite contained in the UG2 ore relative to PGM content, which can also vary considerably based upon the relevant geographic location of the UG2 reef being mined.
All we can say based on observing recent production trends that this limit appears to be around 80-70% UG2 vs. 20-30% Merensky. At Lonmin's operation for instance the current ratio is around 70% UG2 to 30% Merensky, with Lonmin being considered an industry leader in the early adoption of improved technologies enabling the ratio to be pushed this high.
It is possible to build new smelting and refining capacity that can treat 100% UG2 ore, but this would require completely new technology or processes, for example the ConRoast technology developed by Mintek and now owned by Jubilee platinum. However, again these technologies have not really been tested commercially and would require large-scale investment, something the industry will likely avoid for as long as possible.
Fortunately, the more recently developed Northern Limb and Platreef contain a higher percentage of base metal, which allows for the ore from this region to replace some of the Merensky ore currently being processed. However, the ore from the Platreef has much lower grades (PGM grams per tonne), which generally means more tonnage is required to meet the same amount of equivalent Merensky concentrate (in order to achieve the same amount of refined platinum).
Nevertheless, ore from the Platreef and specifically from Amplat's large Mogalakwena mine, at present likely serves as a critical substitute for declining Merensky ore at the company's three main smelters and most importantly at its Waterval smelter in the Rustenburg area. Amplat's does not publicly disclose how much concentrate from each mine goes to which of its three smelters, but it is very likely that some of the Platreef is being treated at the Waterval smelter as opposed to the much closer Polokwane smelter.
Taking a look at Amplat's 2015 production report, we can see that the company already mines very little Merensky reef. In 2015 the company mined and milled around 40mn tonnes of ore, of which Merensky reef accounted for just 7%. This is well below our assumed general industry limit of 25-30%. However, the large Mogalakwena mine produced 12mn tonnes of ore and if we are conservative and use a 1.5x adjustment factor (in reality this could be much higher), it would still provide the company with around 8mn tonnes of equivalent ore suitable to blend into the UG2 feedstock as a replacement for Merensky reef.
Based on the existing amount of Merensky ore processed per annum (3mn tonnes or 7-8% of 40mn tonnes), taken together with the 8mn tonnes of adjusted Platreef ore, the total proportion of Merensky/Platreef ore being processed as a percentage of the overall total is very roughly around 30%. This is slightly higher than thee speculated industry limit, which suggests that for now at least, Amplats does not have a problem in terms of sourcing adequate Merensky ore.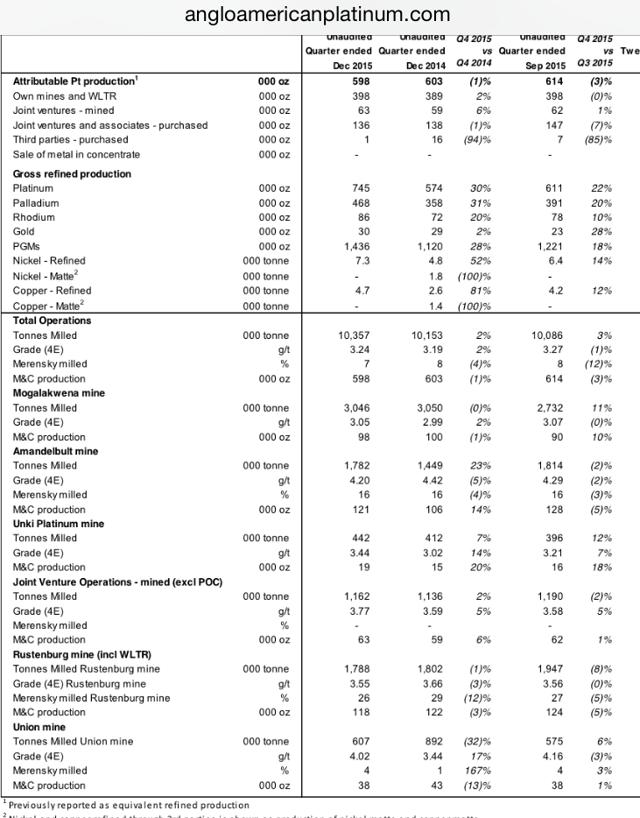 >
Source: Anglo American Platinum Production Report Q4 2015
The company also has production from its Unki mine in Zimbabwe of roughly 1.6mn tonnes per year, which is also treated at its various smelters in South Africa and is understood to be suitable for substation for either Platreef or Merensky. However, it is not immediately clear whether the figures in the table above citing the 7% Merensky figure disclosed for total operations include ore likely being processed (under a tolling agreement) from the Bokoni mine, a 50/50 JV between the company and the listed AtlatSA.
This mine as noted earlier is one of the few mines on the Eastern limb that does in fact produce Merensky ore, but is facing serious financial challenges. It is likely that in 2015 it was producing nearly 1mn tonnes per annum of Merensky ore and if it closed, this would severely negatively impact the amount of Merensky ore available to the Amplats group for processing and blending. However, it is also possible that this ore has not been accounted for in the proportion of Merensky ore milled and disclosed by the group in the table above.
Nevertheless, the conclusion that we can arrive at is that there is not that much scope for Amplats to further increase the processing of UG2 relative to Merensky or Platreef at present. The new extensions to the group's other large existing platinum mine, Amandelbult, is increasingly exploiting UG2 reef, suggesting the amount of Merensky reef currently being processed at this mine ( 16%) will also decline in the years ahead, placing further pressure on the group's Merensky/UG2 ratio.
Given the favourable and low-cost nature of its existing Platreef operations with the addition of the current Merensky/UG2 smelting constraints, it would strongly suggest that the next major project expansion to be undertaken by the group will have to be an expansion of its Mogalakwena mine. However, as noted, it remains unclear whether the country has sufficient base metals refining capacity to absorb a meaningful increase in Platreef production, without requiring substantial further capital investment.
In the final analysis, this suggests that with the exception of the smaller mines and/or expansion projects cited earlier, the marginal cost of bringing onstream substantial new platinum production is considerably higher than the prevailing spot price. For this reason we see limited downside to platinum prices from current levels, which provides for an attractive risk/reward profile, even without an improvement in the demand-side of the market.
In our next article on the South African PGM industry, we will focus at a company level what the evolving Merensky/UG2 ore dynamic means for different players in the industry and not just the country's largest producer Amplats. In particular, we will focus on Sibanye Gold (NYSE: SBGL) and Lonmin, now the country's third and fourth largest producers. Our article will focus on the potential implications from a likely sharp decline in Merensky ore being mined at Sibanye Gold's Rustenburg operations in the future, recently purchased from Amplats.
Under the current mine plan, it is envisaged that these mines will completely deplete their existing immediately exploitable reserves of Merensky by around 2020 and will mine 100% UG2 ore for many years beyond that point. There are other Merensky deposits available for exploitation at Sibanye Gold's Rustenburg operations, but these are deeper and would require massive substantial capital investment, something which would only be possible at much higher prices.
The Merensky ore being mined at Sibanye Gold's Rustenburg operations is processed at the nearby Waterval smelter and amounts to roughly 1.8mn tonnes per annum or more than half of the total Merensky ore currently being smelted and refined by the entire Amplat's group. So, in our next article we will discuss whether this "lost" Merensky ore can be replaced either by an expansion in Amplat's own Platreef operations or perhaps from some of the new mines and/or expansion projects being built by RBplat and Platinum Group Metals.
We also take a more detailed look at what this dynamic means for Sibanye Gold under its current mine plan. With the current life of mine (LOM) at its purchased Kroondal operations (250,000 ounces of platinum per annum on a 100% attributable basis) due to end early in the next decade, the combination of a shift to mining 100% UG2 (or mining less ore overall) could see group platinum production decline by at least 200,000 ounces per annum by 2022/23. This would largely offset the increase in platinum production from the other new mines and expansion projects discussed earlier.
As the graphic below shows, the proportion of UG2 ore to be mined by Sibanye at its recently acquired Rustenburg operations, will increase steadily going forward, both on an absolute basis and relative to the amount of Merensky ore, until UG2 ore accounts for 100% of all ore being mined.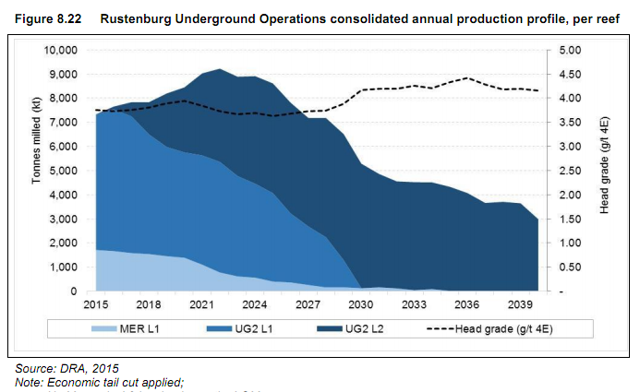 >
>Source: 2015 Competent Persons Report, Rustenburg Platinum
Some of this lost platinum production could be offset by somewhat higher palladium production, but if Sibanye Gold is unable to treat its excess UG2 ore (due for example to a UG2 limit having been reached at Amplat's Waterval smelter), the decline in platinum production could be even more severe. However, the excess UG2 from the Rustenburg operations could also substitute for ore from the Kroondal operations when they reach the end of their current envisaged mine plan. But even in this case, it would preclude any attempt to extend the life of mine at Kroondal, if a UG2 ore limit is reached at the nearby Waterval smelter.
Fortunately for Sibanye Gold, its relatively low-cost South African gold operations are extremely free cash flow generative at current prices. With annual gold production of between 1.3mn and 1.5mn ounces (likely to be sustained into the next decade) and an all-in sustaining cost of around $1000 per ounce, the company is in a good position to solve the "Merensky" ore problems at its recently acquired Rustenburg platinum operations.
In our next article we will take a look at some of the avenues open to Sibanye Gold, including the potential for it to make further selective acquisitions in the industry and which companies may offer, not only meaningful cost synergies, but also synergies in terms of its ability to handle the decline in available Merensky ore at its Rustenburg platinum operations. This is pertinent given the recent announcement by the company that it will be acquiring Stillwater (NYSE:SWC), a PGM mining company based in the U.S.
This is source I found from another site, main source you can find in last paragraph
Source : https://seekingalpha.com/article/4030146-outlook-south-african-pgms-industry
sector
sector