This is source I found from another site, main source you can find in last paragraph
The consumer staples segment has been weak over the past few years as top players in the segment have all struggled to get their revenues growing against the headwinds of macro economic conditions, increased competition and a stronger dollar. But there are also companies with products that can help them stay the course, thwart competition and keep moving forward. Kimberly-Clark (KMB) is one such company. Here are a few factors that make Kimberly-Clark a great investment for the long term.
Revenue Growth
Kimberly-Clark's revenues have declined over the last three years, down from $19,724 million in 2014 to $18,202 million in 2016. Unlike some of the big names in the industry, however, whose revenues declined due to lack of volume and shifts in product mix, Kimberly-Clark's revenues declined primarily because of a stronger dollar.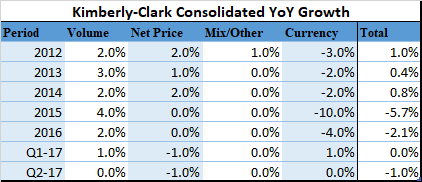 Source: Annual Reports and Quarterly Filings
As you can see from the table above, Kimberly-Clark was able to pass on price increases and improve its volume in 2014. Volume grew strongly in 2015, only to see currency fluctuation take away all the gains and push revenue to sharply lower levels. If not for a stronger dollar during the 2014-2016 period, Kimberly-Clark would have been able to show an improvement in net sales.
But investors have to remember that Kimberly-Clark is a global company selling its products in over 175 countries, and revenues from outside North America accounted for nearly half of net sales during the second quarter of the current fiscal. In that kind of situation, the strength of the dollar against global currencies will always have an out-sized impact on total revenues.
The worst may already be over for Kimberly-Clark, and this is partially validated by the fact that in the first two quarters, currency fluctuation didn't have any impact on Kimberly-Clark's net revenues.
Sales in developing and emerging markets increased 3 percent including a 1 point benefit from favorable currency rates. Volumes increased 4 percent and product mix improved 1 percent, while net selling prices were down about 2 percent. The volume increase included gains in China, Eastern Europe and Latin America. The decline in net selling prices was mostly in China and Eastern Europe.
Though, as investors, we would like to see as much growth as possible, Kimberly-Clark isn't doing as badly as it looks. Volume has grown in the last few years, and the company registered volume growth during the second quarter in its most important segment: Personal Care. And that, too, in its most important markets for growth: China and Eastern Europe, and Latin America.

Source: Q2-17 Press Release
Let us take a closer look at Kimberly-Clark's second quarter numbers, when volume growth was a mixed bag. While it did reasonably well in the KCP segment, as well as in developing and emerging markets, the competition took its toll on volume growth in North America and other developed markets. Clearly, the competitive environment in highly mature markets remains a huge headache for the company during the short term. This will put additional pressure on margins, as the company won't have room to increase net prices, and will most likely have to cut prices and increase advertising spend, promotions and so on to get volumes back on track.
We have to keep in mind that this is a problem that all the players in developed markets will face, not just Kimberly-Clark. With volume decline in the low single digits in the personal care segment, things are not in an alarming state of affairs. Kimberly-Clark has lowered its outlook for the year from 1 to 2% growth to flat or slight growth for the year, so the company is not expecting to lose significant ground in the short term.
The reality of it is, KMB will be playing a holding game in developed markets, while staying aggressive for growth in emerging and developing markets. Revenue growth will be slow and steady, as long as currency fluctuations remain favorable. That's the macro-level risk that investors need to understand.
Kimberly Clark's Dividends are Extremely Safe
Kimberly Clark has raised its dividends for 45 years, and it's looks good to add many more years to that. This is a financially well-managed company, and the balance sheet has a lot of strength that will not only allow Kimberly-Clark to raise its dividends over the medium term, but also help the company make any acquisitions as and when needed.
At the end of second quarter the company held long term debt of $6,777 million against a cash balance of $1,051 million. The $345 million cash dividends paid during the second quarter were 42.5% of operating income ($799 million) and 64% of net income ($540 million). With an interest expense of just $81 million during the quarter, there is plenty of room to take on more debt, if required.
Operating Margin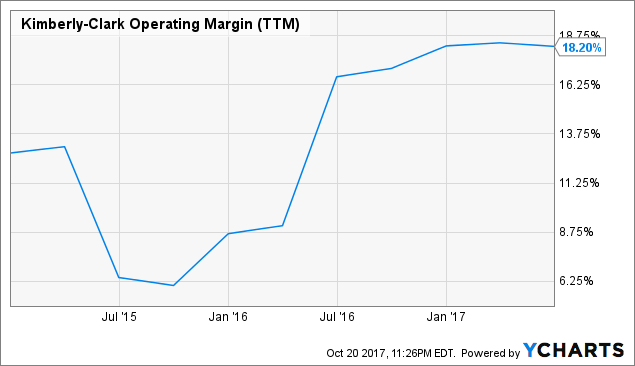 KMB Operating Margin (TTM) data by YCharts
As sales kept declining due to the stronger dollar, Kimberly-Clark has been aggressively reducing costs, which has led to a strong surge in operating margins. Net revenue declined from $19,724 million in 2014 to $18,202 million in 2016, while operating income increased from $2,521 million to $3,317 million during the period. As revenue declined by 7.7%, operating margin increased by 5.4%.
Investment Case
The short-term outlook is challenging due to the competitive landscape in developed economies, but Kimberly-Clark is a great long term investment because of its portfolio of marquee brands, its growing volume in emerging markets and its low debt position. The 3.35% yield is just the icing on the cake.
This is source I found from another site, main source you can find in last paragraph
Source : https://seekingalpha.com/article/4115285-considering-kimberly-clark-long-haul
denote
line